SO THE FISCAL CLIFF HAS BEEN AVERTED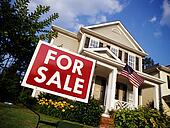 We had the "fiscal cliff" drama with the posturing between the political rivals in Washington holding the nation in rapt attention as to whether the USA would become another Greece or Spain.   When they realized we didn't give a damn what they do, Congress decided they would temporarily come to their senses and passed a semblance of a bill which will take us through a few months so they get another round of strutting about like peacocks.
One semi-good thing that came out of all this brouhaha is that Congress has decided to extend the Mortgage Forgiveness Debt Relief Act.
This act was first passed in 2007, allowing mortgage holders to avoid paying income tax on the value lost when they are forced to sell their homes at prices below their mortgage payoff balance (short Sale).  Normally, the IRS considers that difference as a credit on the mortgage still owed, and thus as taxable income.
In the final months of 2012 consumers caught up in the underwater home phenomenon were concerned as to their options if this Act was not extended.   As advisors many of us were left feeling that regardless of whatever answer we gave it was never adequate because we had no idea what the outcome would be.
The fear that the mortgage crisis could reignite was a major factor in Congress' decision to grant the extension of the Mortgage Forgiveness Debt Relief Act.  This extension, however, is only effective through the end of 2013.
So if your goal is to go through that frustrating process known as a short sale, the earlier you get started is the better for you.  Procrastination is never a good thing but this is one time when it will definitely hurt you.
Don't forget to contact us for all your bankruptcy and Immigration needs at 510-233-7700
by